WordPress Staging Platform
Staging sites provisioned in minutes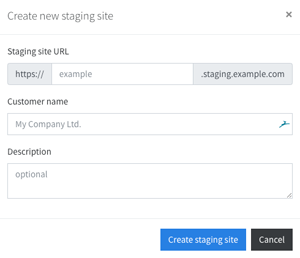 Our Theatre system allows you to create SSL-enabled WordPress staging sites on your domain for your clients with just a few clicks. Installation, configuration and launch is all done for you, just log in and start building straight away.
Create any number of WordPress staging sites using a user-friendly web-based interface on a platform dedicated for you, limited only by the storage capacity of the package. No technical knowledge required, no configuration files no need to purchase temporary domain names, it all sits within a subdomain on your own domain name, so you can send your clients a professional, fully-secured staging URL for them to view your progress.
Always the latest WordPress, and always ready to go in minutes.
Easy live hosting migration
Once a site is complete there is an easy migration path to live hosting. If you want to use our web hosting platform (recommended) we will migrate the site from your staging server onto it free of charge. If you want to use a different hosting provider you can, we will provide an export of the staging site for you to host elsewhere, again, free of charge.
Package options
All packages include dedicated and fully managed server, Theatre licence, software updates, wildcard SSL certificate 🔒 and bi-nightly backups with seven day retention.
£50 / month or £550 / year
200Gb storage
Recommended for up to 10 developers
Unlimited secure staging sites (within storage)
£100 / month or £1,000 / year
500Gb storage
Recommended for more than 10 developers
Multiprocessor platform with increased memory
Unlimited secure staging sites (within storage)
We are also able to discuss bigger specifications according to your needs.
All prices are exclusive of VAT